Epic Homeschool Classes
NEW! We are thrilled to introduce Epic Homeschool Classes offered online by instructor Beth Cuvelier. Starting with "America's Epic Founding" and The Voice, the Revolution, and the Key (VRK), online instruction is available for middle and high school students at various times, and will last a semester. We will be adding a new book each semester in the Revolutionary series. Therefore, the fall 2023 semester will be the VRK, and in the spring semester there will be a VRK class for new registrants and a DSS (The Declaration, the Sword, and the Spy) class for those who completed the VRK, etc. We will add the MEF (The Marquis, the Escape, and the Fox) class next fall, etc. Future plans will include Jenny's six Biblical titles as courses.
We will set the class enrollment requirement for at least 5 students for a class to make. If it doesn't make, then the students registered for that section can be incorporated into another class if the family wishes.
The lessons for these classes are planned with all students in mind, therefore it is adaptable to the differing needs of individual students and designed to be inclusive for learners at all levels. Even parents can join in!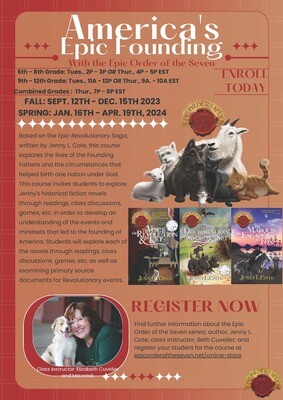 America's Epic Founding: VRK
America's Epic Founding: VRK